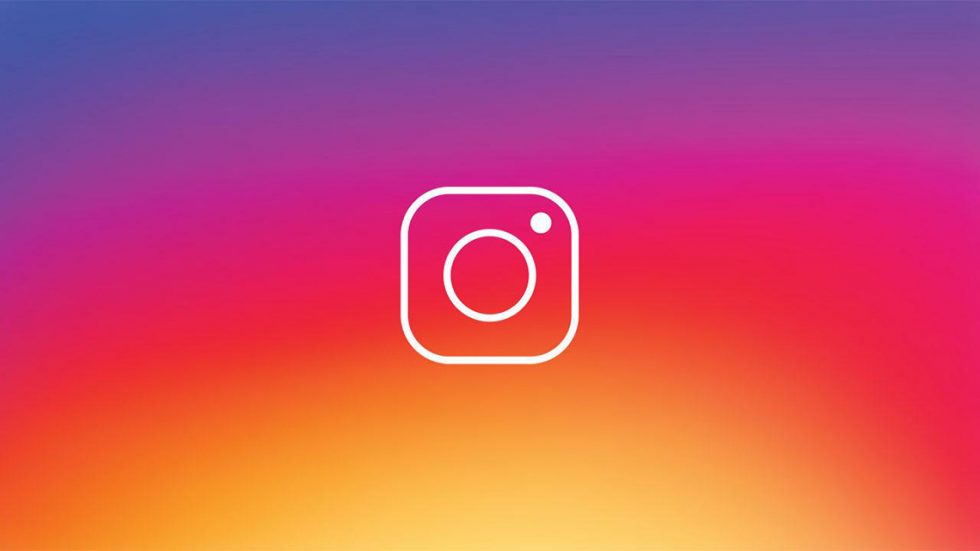 Simple but captivating. In just a few years Instagram has become one of the most popular social media. However, it is far more than just a photo-sharing application equipped with various filters, geotags, hashtags. Successful entrepreneurs worldwide are praising Instagram for helping them boost their businesses, especially since the innovative Instagram Stories feature has been introduced.
I asked 3 professionals how they succeeded on Instagram. Let´s have a look at their precious tips how to grow your Instagram followers.
Hashtag is (not the most) important
The first association with Instagram for many people is hashtag. I was curious if that really is the most important thing on Instagram or there is another secret.
"It certainly helps you to find people from the same niche, whose photos you can like, comment and engage with. By doing this, you'll introduce yourself as a fellow travel blogger," says the digital nomad couple – Ivana and Gianni – from Nomad is Beautiful. "However, we wouldn't say a hashtag is the most important when it comes to growing the number of followers."
Digital marketing expert Viktor Vincej from Traveling Lifestyle agrees and adds, that "for a brand, it is good to create its own brand hashtag but for an individual it does not matter, unless you are planning to build very big personal brand."
Since there is a ton of hashtags related for example to traveling, they both recommend doing some research before rushing to hashtag your posts.
"Use those hashtags where you can appear in top posts. Just compare numbers of likes on your posts and posts in TOP. Avoid the most popular hashtags," recommends Viktor.
"Naturally, you should use the hashtags that are used worldwide. In terms of travel blogging industry, these are hashtags known by the media, travel bloggers and independent travelers who look for travel tips and inspiration," says the nomad couple adding another great tip regarding hashtags. "If you post a photo from a destination where Instagram is widely used, use a hashtag with the name of the country in their language, such as Suomi for Finland, or Filipinas for the Philippines. That way you'll reach more travelers and followers."
"The way I do it, is that I intentionally search for travel-related hashtags and choose those which are best related to my actual photo," Ágnes György explains her strategy from Work Save Travel Repeat.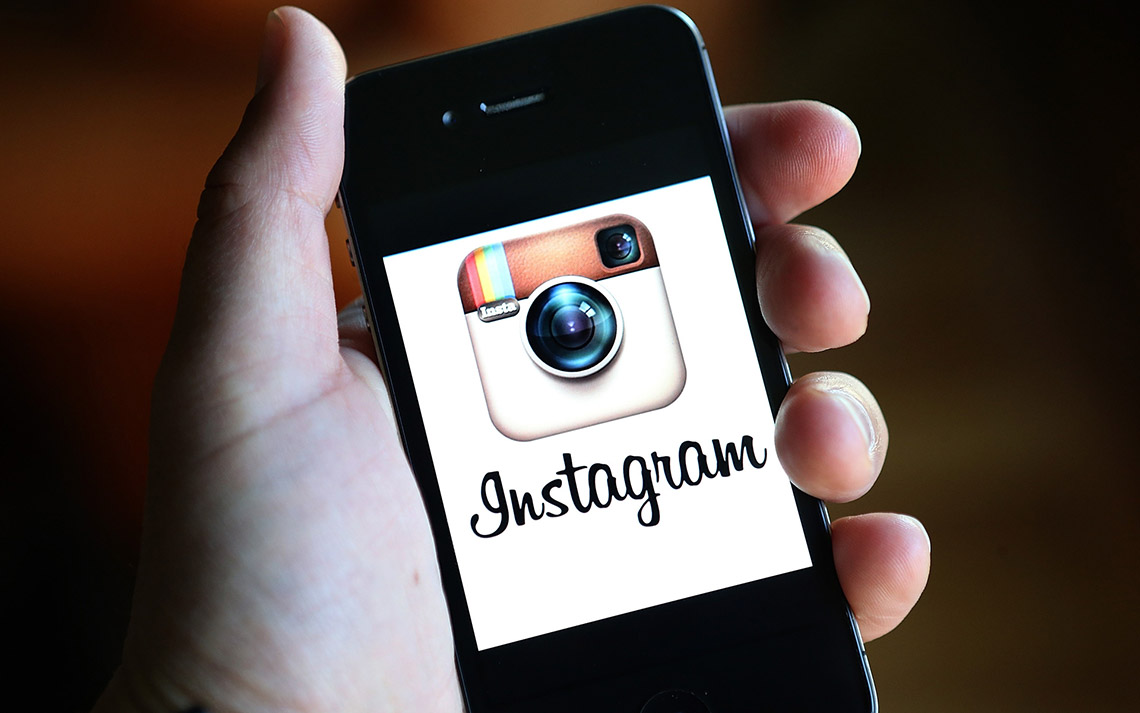 Stunning photos are essential
Some people love posting photos of themselves only, whereas others post pictures of nature or inspirational quotes. The variety of profiles is endless. What is the right way to manage your IG profile in order to grow you audience?
"Instagram is a great platform for visual storytellers, so it is definitely worth posting only the best of your photography," explains the digital nomad couple.
And what about best of selfies?
"Nowadays, travel feeds on Instagram are turning into personal galleries. Faces of bloggers are often covering half of the photo with their smiles. We are not saying you shouldn't say "hi" to your audience every now and then, but to create a feed full of personal photos that don't say anything inspiring about a destination where you are, is not the best way to promote your photography and writing skills."
Surely, there are (travel) bloggers who run successful social media profiles based mostly on their selfies. There is nothing wrong about it as long as the post is engaging, stylish, funny or simply beautiful.
Ágnes György, who actually works as a graphic designer, explains the secret of good photos:
"A good quality photograph is the key to success. A good composition of a photo catches attention fast and easily."
Viktor Vincej states, that it is the first impression that helps to gain followers. "You want to look great and catch attention when somebody lands on your profile for just a few seconds. Having great stories helps a lot as well and it might be more important for already existing followers but for growth, you need to always impress!"
Although all the 3 profiles of the interviewed travelers are different, they have one thing in common: all of them are intriguing. Let´s have a look.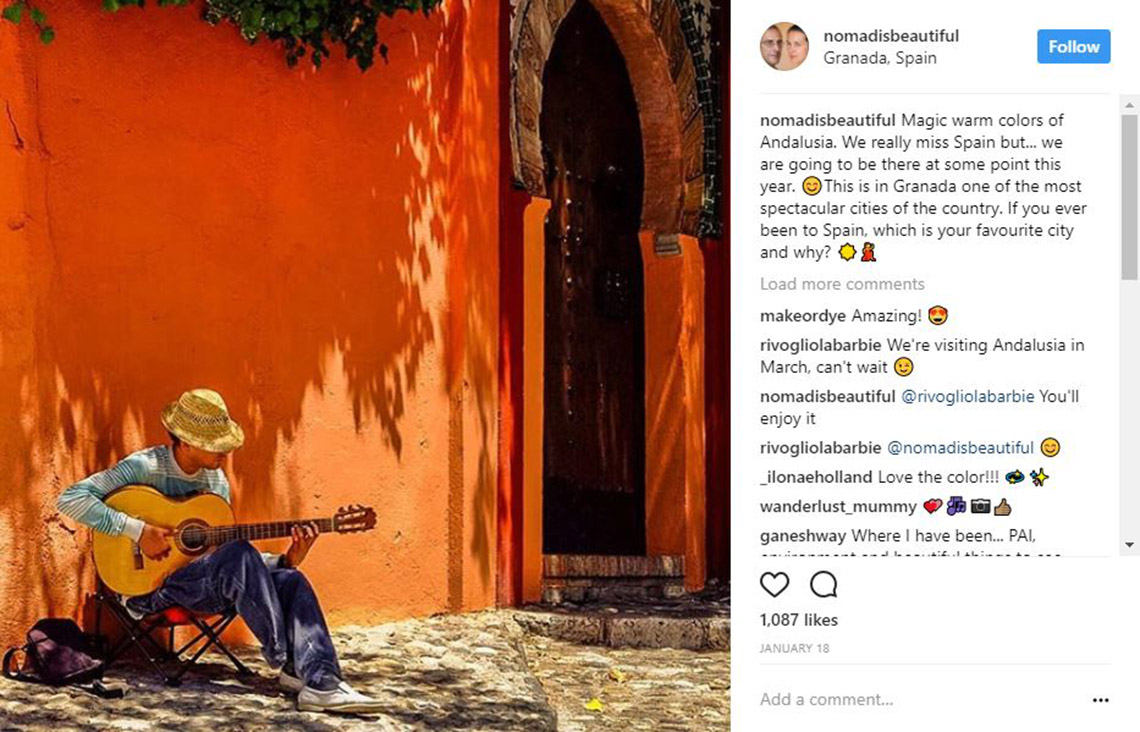 Nomad is Beautiful. Visual storytellers, playing with colors, incredible 29.7K followers. This Instagram profile catches your eye and heart at first sight.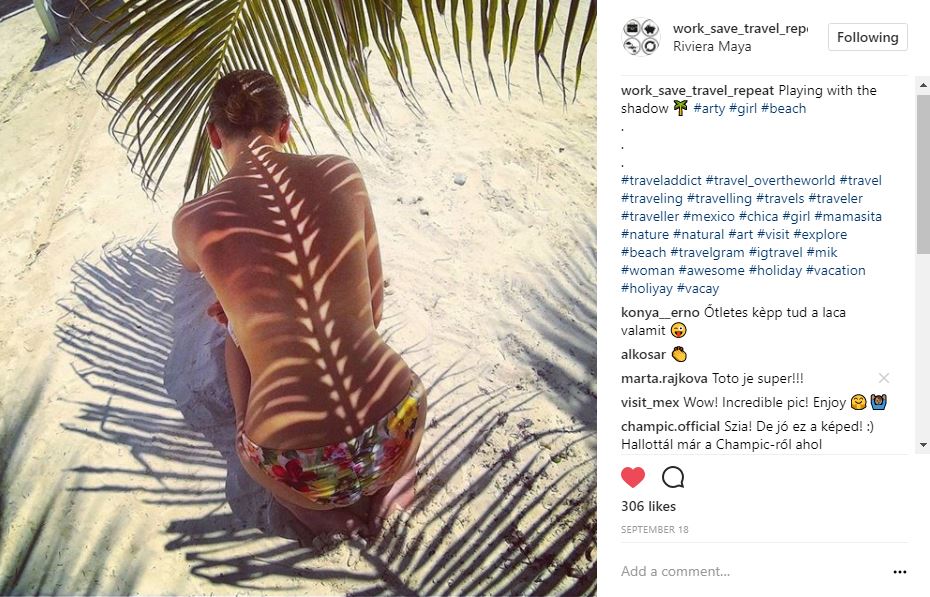 Work Save Travel Repeat. Travelling couples will always draw peoples´ attention. Cuteness, love and fun comes down to you through their photos.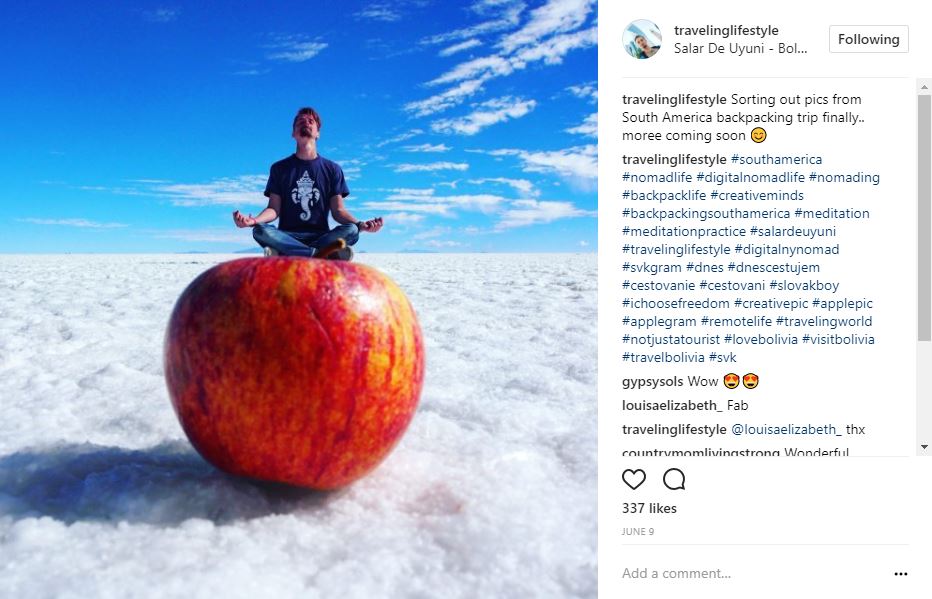 Traveling Lifestyle. Viktor´s posts indicate that travel is the most fun and enjoyable thing on Earth.
One should manage
Two of the interviewed pros are actually couples. I was wondering if they manage their common Instagram profile together or it is specifically "assigned" to one of the partners.
"It looks visually neat and more appealing when the feed is aligned with the photography style of one person. Gianni is a leading photographer of the website, so it was natural that he took over the Instagram account. Plus, he is much more confident in front of the camera in InstaStories," unveils Ivana.
As to Work Save Travel Repeat, it is Ágnes who is in charge of Instagram. "Laci manages our Facebook, I am managing Instagram. I think it is because I am more active on my private Instagram profile as well, therefore it was obvious that I would put more effort into our common profile too."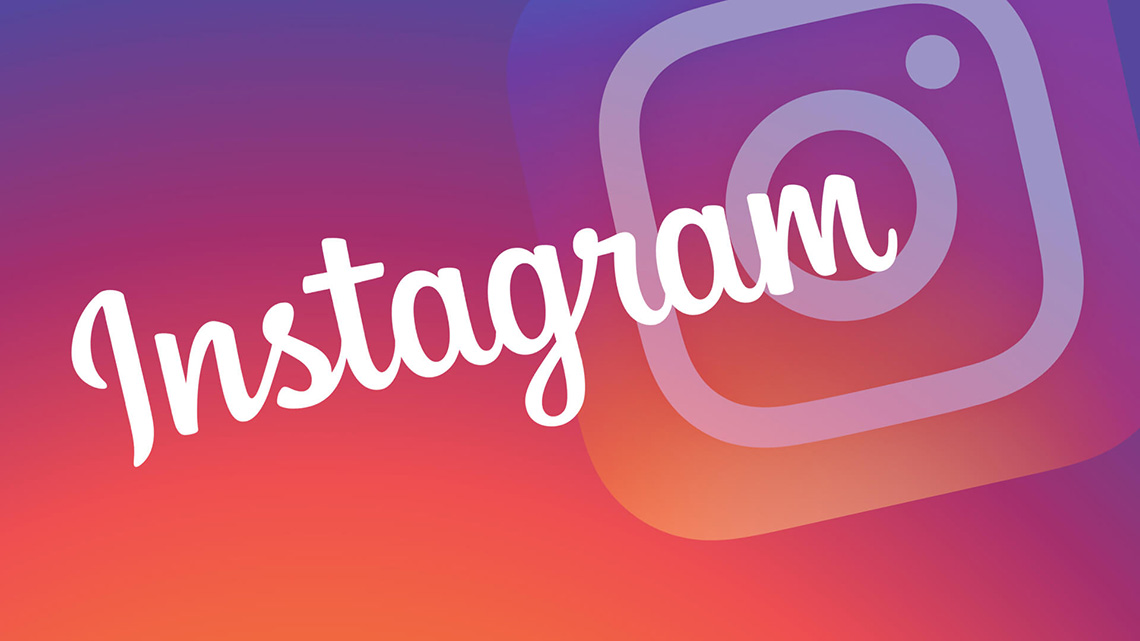 Clever business tool
"Businesswise, Instagram can help bloggers to promote a place or a product instantly via InstaStories and through appealing captures that can be seen by more people when using the right hashtags," says the digital nomad couple.
How does it work?
"On Instagram, you can build a story about your brand or product, promote your business in many different ways and convert your followers into customers, readers or subscribers," explains Viktor.
It is undeniable that Instagram has rapidly grown after introducing Instagram Stories. "At the same time, the reach of the Instagram posts has declined radically recently, which makes Instagram a similar media to Facebook, where you need to boost your post to reach more people," such is the experience of the Nomad is Beautiful.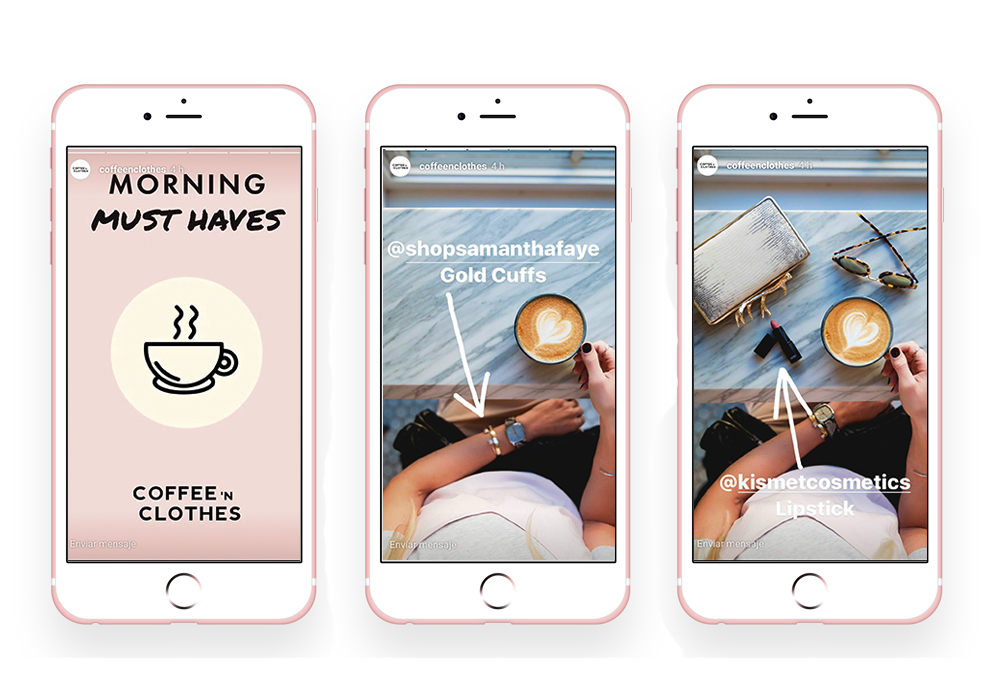 An example how brands use Instagram Stories to grow their business. Photo: http://girlceo.co/brands-instagram-story-ideas/
Mistakes you should avoid
If we could start over again, I would manage our Instagram much more systematically according to a well-thought-out strategy," says Ágnes.
Did the others also make any mistakes when they started their Instagram profiles?
Ivana and Gianni remember how they did not connect the Instagram account to other social media, their choice of hashtags was random and they did not comment or engage with other travelers at the beginning. "All that resulted in a slow growth," recalls the couple.
Viktor lived in Australia for long term and he stopped using Instagram for about 10 months.  "Long break. I did not lose a huge number of followers, but they kind of forgot me and Instagram algorithm does not show them my posts anymore," explains the online entrepreneur.
Best summary tips for Instagram users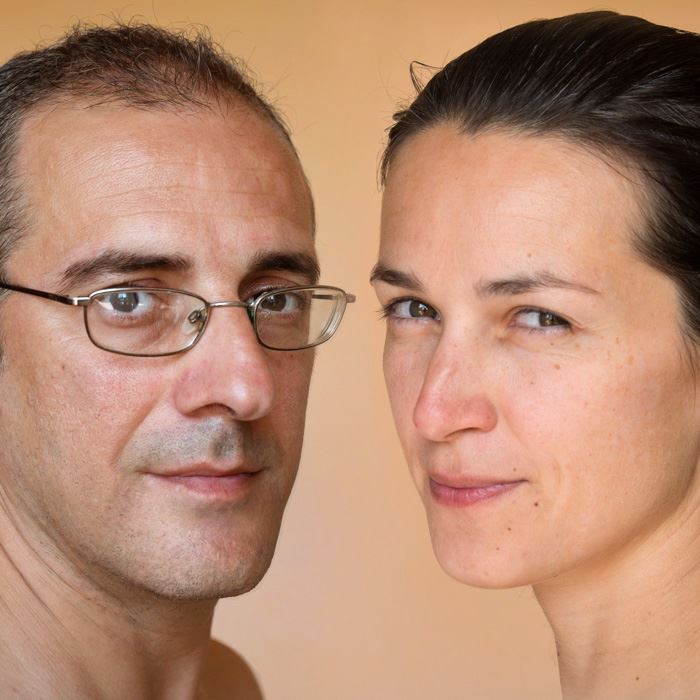 A Slovak-Italian digital nomad couple, travel writers, photographers and video-makers. In summer 2013 Ivana Grešlíková and Gianni Bianchini quit their jobs, sold and gave away everything they owned and set out for a journey. By now they have built a successful online business. They focus on responsible travel, photography and give online consultancy on travel blogging.
I asked them for interview because their Instagram profile, packed with fantastic photos, is truly impressive due to the huge number of followers. Absolutely professional and beautiful work on Instagram. Congratulations!
Follow them on Facebook and Instagram.
3 best tips for Instagram users:
Be selective and post only the best of your photos.
Follow interesting feeds and engage with the travelers, like and comment genuinely.
Connect your Instagram account to other social media platforms and link it anytime you're participating in a collaborative post.
Ágnes György and László Póczos are not online entrepreneurs in fact. They are simply a lovely couple that likes to share travel photos online. Travelling has been their common hobby and passion since 2011. Together they have visited more than 24 countries by now.
Although they are not very well known yet, I have interviewed them because of one noteworthy fact. While on Facebook they have a couple hundreds of followers, on Instagram the number of their followers is almost 4 thousand! I thought, dude, they definitely know how to do this!
Follow them on Facebook and Instagram.
3 best tips for Instagram users:
Posting pictures or InstaStories on regular basis.
Don´t be selfish! Follow and like other profiles and it will pay back soon.
Pay attention to the quality of your posts.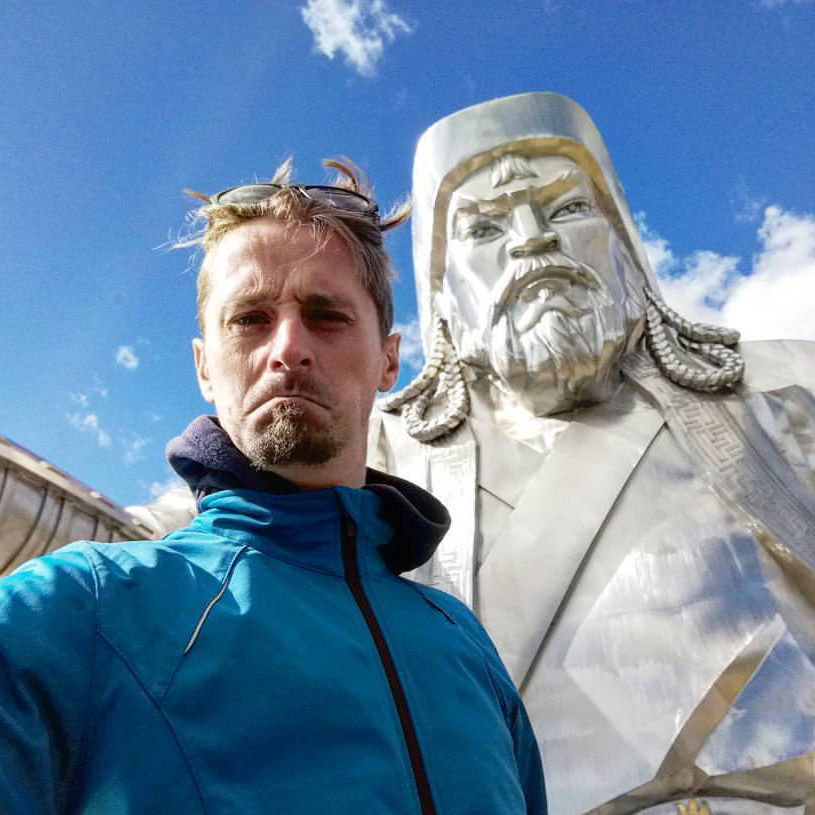 Viktor Vincej runs his own digital marketing company with bunch of different projects, including the online magazine Traveling Lifestyle. He has been actively travelling for years and visited more than 61 countries while working online as a digital nomad.
With more than 6 000 followers on Instagram and a professional carrier in online marketing I did not hesitate a second to ask him for tips about Instagram.
Follow him on Facebook and Instagram.
3 best tips for Instagram users:
Be a user of Instagram as well. Follow friends, influencers, competitors and learn from them.
Engage with people you follow (likes & comments). You will build nice insta-relationships with them and you will also get more likes, comments and reach.
Feed your audience constantly!
It seems like the tips of our 3 pros are quite concurrent. Let me sum up very briefly their advice.
Post great pictures only, socialize (in every possible way) and stay consistent.
Good luck and have fun on Instagram!
2