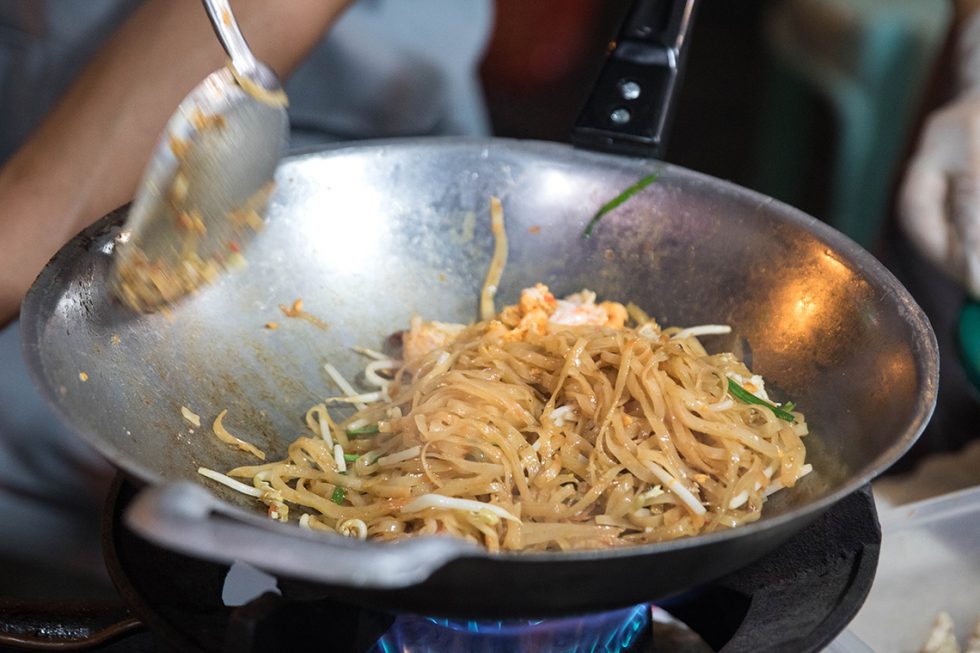 The Thai cuisine is one of the most popular in the world and Thai street food is undoubtedly legendary. I am a big fan and gourmet of Thai food, so I decided to take a Thai cooking class in Northern Thailand. As a bonus I added a very simple but delicious Pad Thai recipe.
So, welcome in the world of Thai delicacies. Just make sure you don´t drool on your keyboard while reading this article.
Like it? Pin it!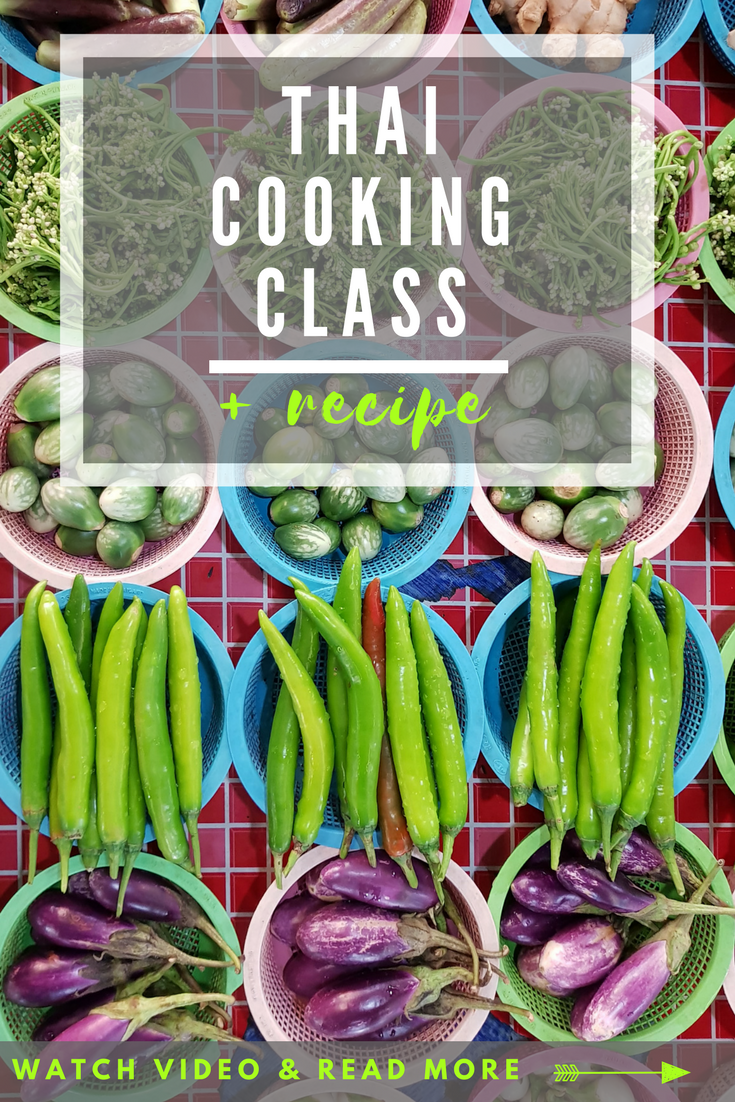 Sammy´s Cooking School
There is quite a big spectrum of Thai cooking classes in the Chiang Mai area. I chose Sammy´s Organic Thai Cooking School. It is located on a beautiful farm surrounded by rice fields and banana trees about 20 minutes away from Chiang Mai.
The course was well organized, everything worked perfectly from the first minute till the end. I contacted Sammy via email and we agreed upon the day of the course. They picked me up in the morning as well as the other participants. There were 10 of us in the class.
Sammy´s cooking school is open to vegetarians, meat eaters as well as people with special diet (e.g. gluten-free). They were perfectly able to adapt the recipes according to our special needs and they found suitable alternatives for everyone.
The class
Our first stop was a local market. Sammy was a very humorous man joking all the time. "So, where are you from? You all look the same," said Sammy laughingly and we all laughed with him. "Oh, we got some people from England. Fish and chips. That is what you eat there, right?" added Sammy with innocent irony. I was historically the first course participant from Slovakia.
He handed us small sheets of paper where we marked the dishes we wanted to cook that day. We had quite a lot of options.
Then he took us to the market and showed us a few basic ingredients, such as tofu, soy sauce, mushroom sauce, various noodles, coconut sugar as well as red, green and yellow curry pastes. "These pastes are ready to use. But today we will teach you to make your own curry paste," explained Sammy.
Shortly we arrived to Sammy´s wonderful farm. We got coffee, tea and an interesting explanation of herbs, ginger, turmeric, chili and other spices used in Thai cuisine. Then everyone got assigned to a separate gas stove and cooking began!
| | |
| --- | --- |
| | Do you like useful and stylish travel gadgets? Download my FREE e-book and get inspired by a list of 22 cool travel accessories that will make your travels easier, pleasurable and more fun. |
Thai dishes we made
The first dish we made was curry. We could choose if we wanted to cook red, green or yellow curry. I chose red curry. Since I am vegetarian, I replaced chicken with tofu.
The second dish was the hot and sour soup called tom yam goong. Again, I used tofu instead of shrimps.
The third dish I made was my favorite Pad Thai. Well, honestly, I think my Pad Thai turned out delicious! However, it was probably due to the fresh and good quality ingredients rather than my cooking skills. Making Pad Thai is very easy in fact.
This part of the class was led by Sammy´s wife. She always told us how to cut and slice things, when to add this and that to the pot and how long it needs to be cooked.
After we cooked the first three dishes, we ate them. Yummy! We got about 1 hour break afterwards, that we spent in hammocks, walking on the farm, drinking coffee and digesting our delicious Thai lunch.
The last two dishes were mango sticky rice vs. banana  in coconut milk (I chose to make mango sticky rice) and papaya salad vs. spring rolls (I chose to make spring rolls).
After we finished cooking, Sammy explained us how to cook sticky rice, which is the most important ingredient of the above mentioned super tasty dessert. Eventually, we all got a little cook book full of the most popular Thai recipes.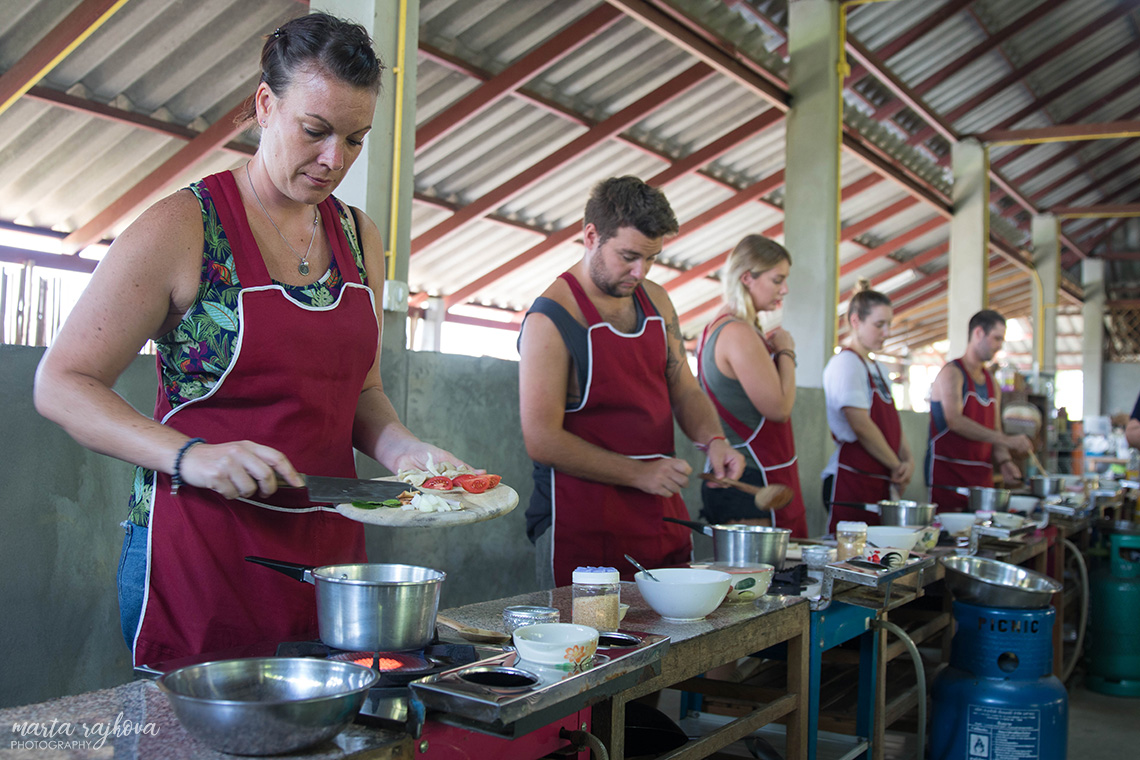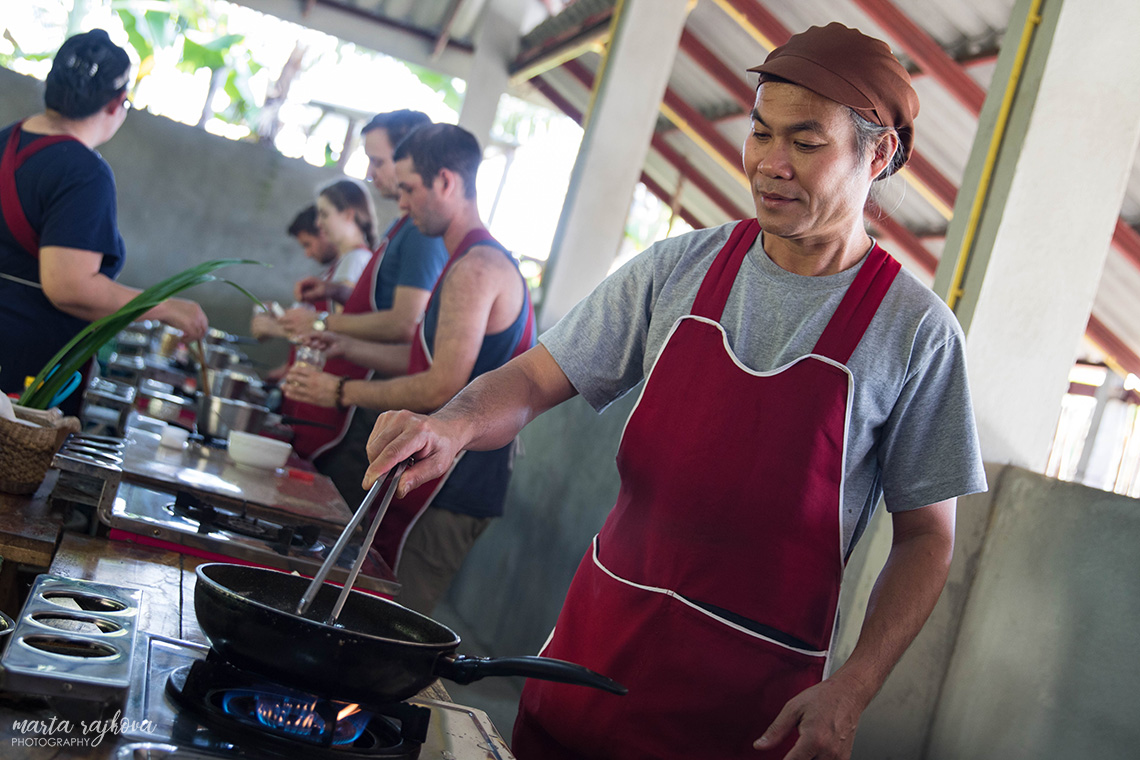 Price
The standard price for a Thai cooking school ranges from 1000 to 1500 THB for a 1-day course. Sammy´s Organic Thai Cooking School costs 1000 THB. It ranks amongst the cheaper schools but it was really good and I can absolutely recommend it.
Another popular Thai cooking schools in the Chiang Mai area are May Kaidee´s Cooking School that specializes in vegetarian and vegan dishes and they even offer fruit carving classes, also Asia Scenic Thai Cooking School, Thai Farm Cooking School and last but not least The Chiang Mai Thai Cookery School, that started in 1993 and it was the first cooking school in Northern Thailand.
Cooking classes in Bangkok
Is Chiang Mai out of your way? No problem. There are many cooking classes in Bangkok and you can easily book them online through airKitchen. AirKitchen is an online reservation system for cooking classes. The idea was born in Japan, but the website offers many classes in  cities outside of Japan such as Bangkok, for example. The cooking classes are lead by local hosts in their homes which is a superb first-hand experience making your travels authentic and fun.
Pad Thai recipe
I think Pad Thai was probably the easiest dish we made during Sammy´s Thai cooking class. Moreover, the ingredients are very simple and easy to get in Europe (or elsewhere) as well. At the same time, I am sure a good Pad Thai can satisfy even a real gourmand. For these reasons, I decided to give you this particular recipe.
Preparation 15 min., cooking 10 min.
Ingredients (serves 1-2):
100 g thin rice noodles
¼ cup firm tofu, cut into small cubes
1 egg
1 tbsp dried shrimps (skip if you are vegetarian)
1 tbsp chopped pickled radish
1 cup bean sprouts
¼ cup spring onion cut into 3 cm pieces
1 tbsp chopped shallot
2 tbsp tamarind juice
1 tbsp fish sauce (or soy sauce if you are vegetarian)
1 ½ tsp sugar
¾ cup water
pinch of chili
1 tbsp roasted peanuts, crushed
1 small lime
3 tbsp canola oil or sunflower oil
Method:
Bring a large pot of water to boil. Add the noodles and cook for about 5 minutes. The noodles must remain undercooked, because they will be fried later. Mix the tamarind juice, soy or fish sauce, chili, sugar and water and stir until the sugar dissolves. Heat the oil (do not use olive oil) and fry tofu until it turns light brown and a bit crispy. Add shallot, (dried shrimp), pickled radish and fry until fragrant. Add egg, scramble and stir all together. Put the egg mixture on one side of the wok. Add the tamarind mixture into the other half of the wok together with the noodles. Stir the noodles until they are soft. Add bean sprouts and spring onion, stir briefly and turn off. Serve warm with a small lime and spring onion on the side. Sprinkle some ground or chopped roasted peanut on the top.
Bon appetit!
Most popular Thai dishes
Red/green/yellow curry (gaeng par/kiew waan/kari gai)
Hot and sour soup with shrimp (tom yam goong)
Chicken coconut soup (tom kha kai) – spicy and sour hot soup with coconut milk
Thai fried noodles (pad thai) – rice noodles with chicken/tofu/egg
Stir fry chicken with cashew nuts (gai phad med mamuang himmaparn)
Mango sticky rice (khao neaw mamuang) – traditional Thai dessert made from sticky rice and sweet coconut milk, served with fresh mango
Papaya salad (som tam)
Thai cuisine and health
It is true that there are quite a lot of deep fried dishes in the Thai cuisine which is not very healthy. On the other hand, they use a huge amount of greens, herbs, garlic, healthy roots, such as ginger, turmeric etc. By the way, Sammy´s cook book that you get after the cooking class contains a list of ingredients and their benefits.
Did you know that chili is anti-inflammatory, a digestive aid, pain killer and stimulates circulation? Lemon grass has uplifting, relaxing, revitalizing and cleansing effects. Go to a Thai cooking class and learn more about plants and their functionality.
Cooking Thai food at home
The most challenging part of cooking Thai food at home is probably getting the right ingredients. Remember, never replace a real Pad Thai sauce made from tamarind with ketchup. Never ever. Fortunately, there are many Asian food shops in the Western countries, so that you should be able to get most of the things you need.
So, put on your apron and let´s cook something delicious!
Did you like this delicious article? Pin it!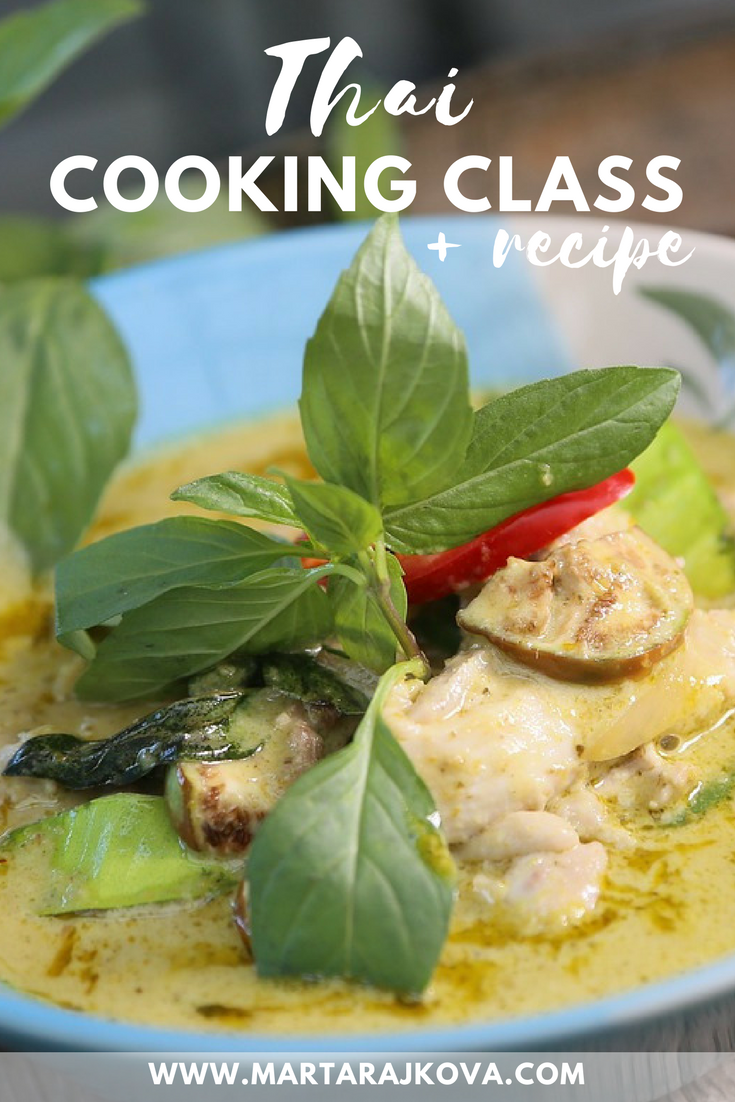 Are you traveling to Thailand? You can not miss the authentic Maeklong Railway Market.
Are you a solo traveler? Check out my tips on Solo Female Travel.
1