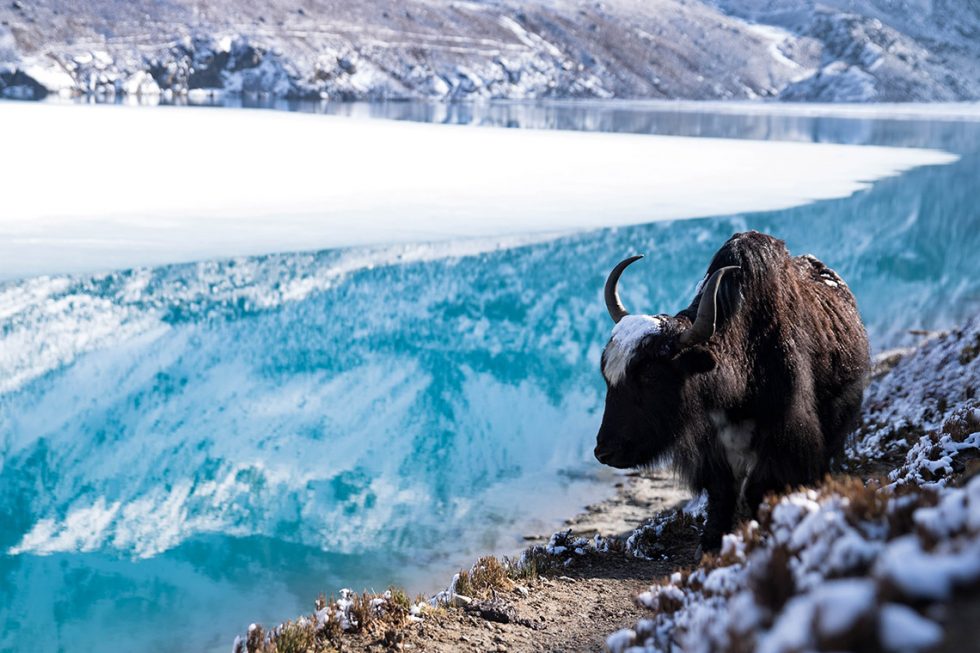 A stunning trek to five pristine turquoise lakes, along Ngozumpa Glacier, the largest glacier in the Himalayas, with a climb of Gokyo Ri (5357 m) for a fantastic panoramic view of the Himalayan Range including Mt. Everest (8848 m). Gokyo Lakes Trek is perfect for those who want to have a spectacular and diverse trek but not too difficult. Compared to the Everest Base Camp trek it is similarly beautiful with less nights spent in a high altitude.
Facts and overview
Duration
11 days
Max. elevation
5357 m
Difficulty
moderate
Lenght
104 km
Price
permits: 5390 NRP/person

food and accomodation: ca. 2000 NRP/person/day

return flight ticket Kathmandu – Lukla: 358 USD

Season
March – May, September – November
Start/end
Lukla
Even my mother made it
Gokyo Lakes Trek is an ideal choice for those who want to go for a beautiful trek but not a hard core one. If you are asking yourself whether you can make it or not, I am just letting you know that my 62-year-old mother made it. However, I must say that for her age she is very strong and in a good physical condition (in summer she would even climb a tree and pick cherries while for me she would prepare a ladder).
The main secret is to be patient and walk slow, very slow.
Slow but sure wins the race.
True that. Especially in the Himalayas. My mom was doing very well on the trek and she said she would gladly go again! (Hmm. The question is if I am willing to take her again… Just kidding.) Anyway, I am happy and proud to be a descendant of such a strong parent. She complained less than I did during my first trek in the Himalayas in 2016. Surely, this time I walked way slower because of her, but eventually it was a very good thing. It prevented me from even the slightest chance to get altitude sickness. Also, I had more time to meditate and rethink all kinds of stuff in the atmosphere of Buddhist prayer flags blown by Himalayan wind that I love so much.
Highlight of the trek
During the Gokyo Lakes trek you will see beautiful lakes – turquoise or white and frozen depending on the season and weather. Yet, the absolute highlight of the trek was climbing up to Gokyo Peak (5357 m). We started early in the morning, at 5.30 am, in a dense fog. But we were lucky. On the top there was a breathtaking view awaiting. Beautiful inversion, sunshine and 360° view of the Himalayan range including Mt. Everest, Cho Oyu, Lhotse and other giants.
Another highlight of this trip was our initial helicopter ride after an unsuccessful flight by plane to Lukla. Rice fields, forests and beautiful valleys so close that you can almost reach out to them. I loved our heli-ride and now I have a new dream. I want to be a helicopter pilot!
Itinerary
11 to 13 days are recommended for the Gokyo Lakes trek. It is advisable to have a few extra days for unexpected sickness, delayed flight to/from Lukla or in case you would like to stay somewhere longer. My mother and I made it comfortably in 11 days. We had one acclimatization day in Namche Bazaar, but you can add one more day in higher altitude. During the acclimatization day you can stay in Namche Bazaar and have some coffee and cake in one of the bakeries. However, it is recommended to walk up to the Everest View Hotel (3880 m) and/or to Khumjung village and back to Namche Bazaar.
Day 01
Flight do Lukly (2860 m), trek to Phakding
2600 m
3 hours
7.4 km
Day 02
Phakding – Namche Bazaar
3440 m
4.5 hours
10 km
Day 03
Namche Bazaar (acclimatization day)
3440 m
—
—
Day 04
Namche Bazaar – Dhole
4100 m
6 hours
11 km
Day 05
Dhole – Macherma
4400 m
3 hours
5 km
Day 06
Macherma – Gokyo
4750 m
4 hours
7 km
Day 07
Gokyo – 5th Lake – Gokyo
4956 m

4750 m

5 hours
2×6 km
Day 08
Early morning Gokyo – Gokyo Ri

Gokyo – Macherma

5357 m

4400 m

3 hours

2.5 hours

 2×1.8 km

7 km

Day 09
Macherma – Khumjung
3790 m
6.5 hours
14 km
Day 10
Khumjung – Monjo
2835 m
3.5 hours
7.9 km
Day 11
Monjo – Lukla
2860 m
4 hours
13 km
Day 12
Flight to Kathmandu
30 min.
In case you get to Lukla too late to start the trek that day, stay in Lukla overnight and continue the next morning to Monjo. After staying in Monjo overnight continue to Namche Bazaar. The rest of the itinerary is unchanged.
Take this itinerary as a recommendation only. You can adjust it according to your pace, health condition and mood. I, for example, would have gladly stayed a few more days at Gokyo Namaste Lodge in Gokyo village, because I liked it there so much. Unfortunately, our porter got altitude sickness (yes, we were also surprised), so that we had to descend to meet him in Macherma where he had been taken while we were climbing Gokyo Ri.
Alternative route
You can prolong the Gokyo Lakes trek and continue through the Cho La Pass (5420 m) all the way to the Everest Base Camp (5360 m) including the climb to Kala Patthar (5550 m). In that case you will do two amazing treks at the same time and you will not have to return the same way. For this variation you need about 16 days including the flight to/from Lukla.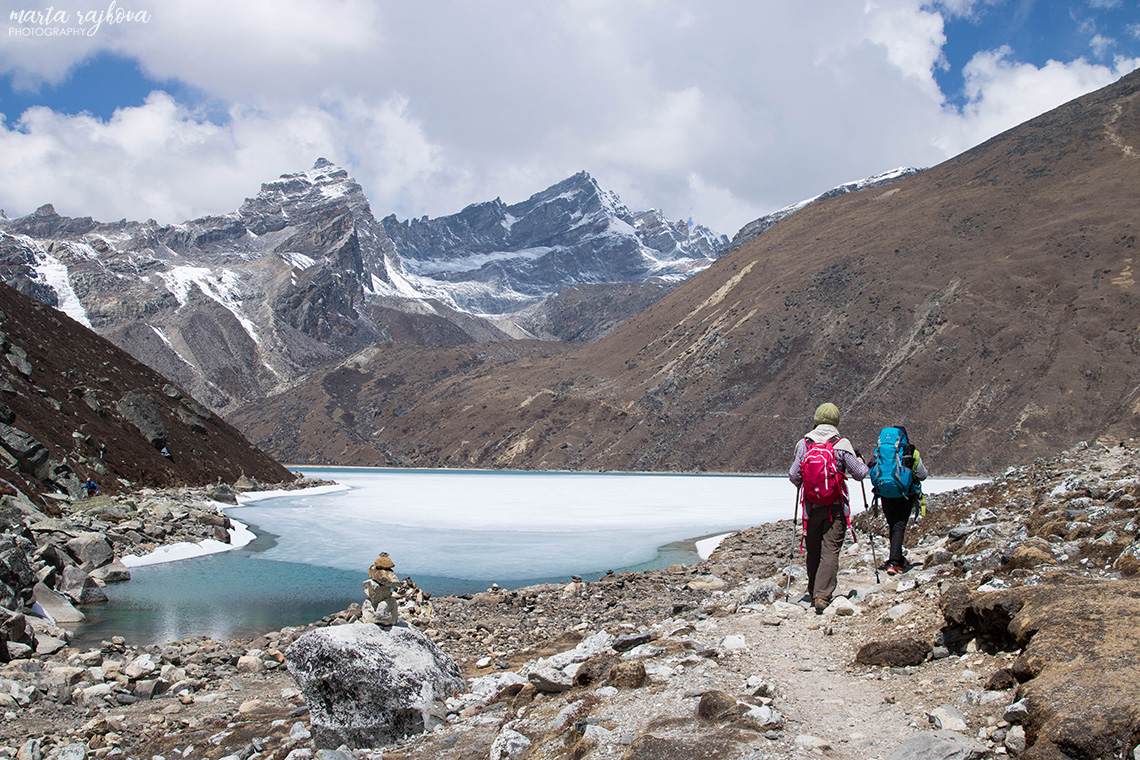 Permits
You need two different permits for the Gokyo Lakes trek:
TIMS (Trekkers´ Information Management System) – general trekking permit required regardless the type of the trek. You can get your TIMS in Lukla for 2000 NPR.
(Important! In the past the TIMS was issued in Kathmandu. Since 2018, however, the TIMS for Everest Base Camp trek and for Gokyo Lakes trek is issued directly in Lukla in the beginning of the trek. The TIMS for other treks such as Annapurna Circuit or Langtang are issued in Kathmandu or Pokhara, as usual.)
Sagarmatha National Park permit (because Gokyo Lakes are in the Sagarmatha area). You can get this permit in Kathmandu at the Nepal Tourism Board(map) or during the trek in Monjo for the same price 3390 NRP. You will need to produce your passport with Nepali visa.
The Nepal Tourism Board in Kathmandu is open from 10 am to 5 pm every day except for Saturday and public holidays.
Your permits will be checked during the trek at few check-points (in Monjo and before Namche Bazaar).
Maps
You´ll find a detailed map of the Everest region on traveloutset.com or get one upon your arrival for a few hundred rupees in Kathmandu.
Prices
Food and accommodation
During the trek you sleep and eat at so called tea houses (=simple lodges/guest houses). The price is about 200-300 NRP/night/room or it can even be free if you bargain a little bit. You are expected to have breakfast/lunch/dinner at your lodge.
Food is simple but usually very good. I can especially recommend Gokyo Namaste Lodge in Gokyo village, one of the best Himalayan lodges I have ever been to. There was delicious food, super helpful staff and their common room was always warm unlike in other lodges in the area.
Prices of food, beverages and hot shower are increasing with growing elevation. While in lower villages you pay about 350 NRP/meal in the last village the prices are about 500 NRP/meal or more.
Mineral water in Lukla costs 80 NRP, while higher up in 4400 m it costs about 300 NRP. In general, tap water is not recommended for foreigners. Many people use purification tablets and filters. However, on the last few days of our trek I decided to try drinking only tap water (which is probably water from a local stream) and it was all right. I did not have any problems.
Hot shower costs 150 to 600 NRP/person depending on the altitude.
All in all, for lodging and food we paid about 4600 NRP/2 persons/day, which is about 18 EUR/1 person/day. However, we often had espresso (ca. 300 NRP) and cake (300-400 NRP). If you are not so spoilt like us and you do not have such a sweet tooth, you will probably spend less money.
Guide and porter
In the Himalayas it is very common to hire a guide and/or a porter while trekking. I personally think that if you are a couple or individual trekker a guide is not necessary for Gokyo Lakes trek. The trail is clear and there are no dangerous parts at all. Yet, a guide might be very useful if you hike with a bigger group and, of course, for more challenging hikes.
A guide speaks English, knows the way and most importantly he is experienced. Hiring a guide costs about 35 USD/day plus tips (tipping is expected).
Porters are not expected to speak English. A porter only carries your luggage up to maximum 20 kg. Hiring a porter costs 22-25 USD/day plus tips.
(Prices listed according to Utmost Adventure Trekking Ltd. tour and trek operator.)
The amount of tips is very individual. It ranges from 2 to 20 USD/day depending on your kindness and satisfaction.
You can hire a guide/porter through a trekking agency only 1-2 days in advance. You can also look for a porter in Lukla. The price will be much lower, only about 1600 NRP (=13 EUR/dya), but the guy probably won´t have insurance, which is quite risky.
The Internet
Do not expect to have a good Internet connection during the trek. Well, browsing the Internet is probably not why you go hiking anyway. If you really need to go online, some lodges have wifi (free or for 500 NRP/unlimited data). The second option is to buy a coupon called Everest Link for 600 NRP/200 MB. The truth is, that the latter option is quite unreliable. The first option is better and you can try to bargain any time.
Mobile data through a Nepali SIM card only work in lower altitude around Lukla.
Charging
The rooms in tea houses usually do not have electric outlets. Therefore, you can only charge your phone/batteries at the reception for about 150 – 300 NRP/hour.
Getting to Lukla
By plane
The flight to Lukla is quite an adventure itself. It is a very scenic flight above rice fields, forests and valleys by a small, 14-16 seats-plane. This flight, however, is extremely dependent on weather conditions. Be patient and prepared that your flight might be easily delayed or even cancelled.
Moreover, the runway is only 527 m long and it ends in a rock wall. Therefore, the Tenzing-Hillary Airport in Lukla is one of the most dangerous airports in the world.
You can get plane tickets through local agencies or online a few weeks in advance through:
A one-way ticket Kathmandu – Lukla for foreign tourists costs 179 USD including fees and 10 kg luggage (checked bag).
Print your plane ticket.
You can buy a return ticket without any concern. The date of your return flight can be changed later in case the hike turns out to be shorter or longer than expected. Basically, you should confirm your flight´s date one day in advance. You can leave your tickets at one of the hotels in Lukla and they will do it for you or you can do it by yourself once you come back to Lukla.
Also, if you finish the hike earlier, you can go to the Lukla airport and ask if it is possible to fly to Kathmandu that day. Often it is possible.
By helicopter
A helicopter to Lukla costs about 2500-3000 USD for 4-5 people. It is a fantastic experience. Absolutely breathtaking. If you decide to try it – for fun or because your flight was cancelled and you cannot wait longer – you won´t regret it. However, try to talk to a local who might help you to get a better price. We payed 275 USD/person but sometimes even a lower price is possible (250 USD/person) depending on the circumstances.
By land
If the idea of flying to Lukla sounds too scary to you, you can travel by land. From Kathmandu you need to get to Jiri by jeep or bus. The bus-ride takes about 6 to 8 hours. From Jiri you will start hiking (it takes 4-5 days to get to Namche Bazaar from Jiri).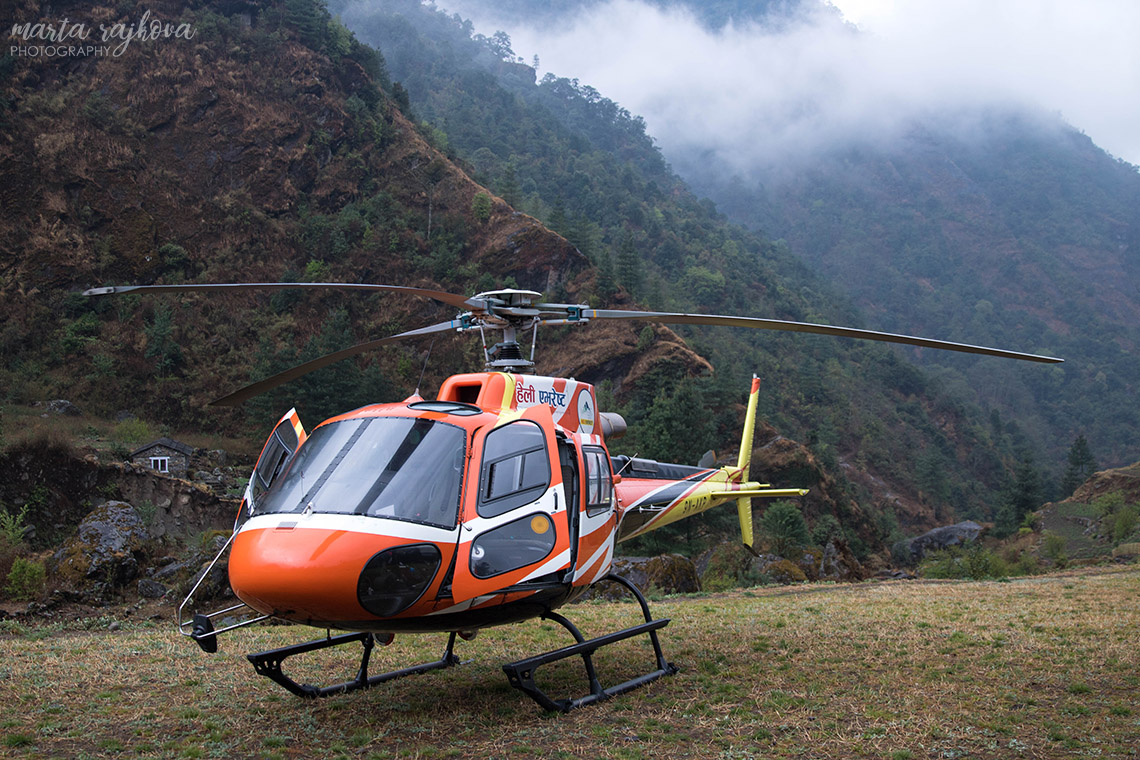 Packing list
Firstly, you need a good backpack. Especially, if you carry all your stuff on your own without hiring a porter. Your backpack should not weigh more than 12-13 kg including water. Ideally, even less.
This backpack is absolutely ideal for those who hike with a DSLR camera. You simply attach the

Thule Versaclick DSLR Camera Holster, Black 

ccamera holster to the Thule backpack and the heavy camera will never again pull your neck or arm down and cause you pain. This camera holster is one of the best travel gadgets I have ever had.
Recommended packing list:
warm sleeping bag (comfort rating around 0°C recommended. There are blankets in the lodges but it might not be warm enough for some people)
hiking shoes
1 lightweight insulated jacket (outer layer)
1 rain jacket (outer layer)
1 fleece jacket (middle layer)
2 merino long sleeve shirts, 2 merino T-shirts (base layer)
hiking pants (ideally convertible zip off style)
leggings for trekking (ideal for ladies who prefer comfy, practical but stylish cloths)
leggings or other lightweight bottom for sleeping
warm socks (ca. 4 pairs)
underwear, ideally merino material
warm hat (and optionally also a hiking hat protecting from sun)
buff or other scarf covering your neck and nose
sport sandals or flip-flops
powerbank (ideally solar charger)
flashlight
trekking poles
sunscreen (SPF 20+)
thermos
travel/sports towel
black tea-bags (for those who want to save money: buy hot water and make your own tea)
basic medicaments (for diarrhea, cold, pain, sore throat; band aid; optionally Diamox. I always take some natural tinctures for stomach and general well-being.)
soap, toilet paper, shampoo (optional), tooth brush, tooth paste, and sanitizer (gel or wipes), lip balm
playing cards/light book/diary for long evenings at the stove/fire
chocolate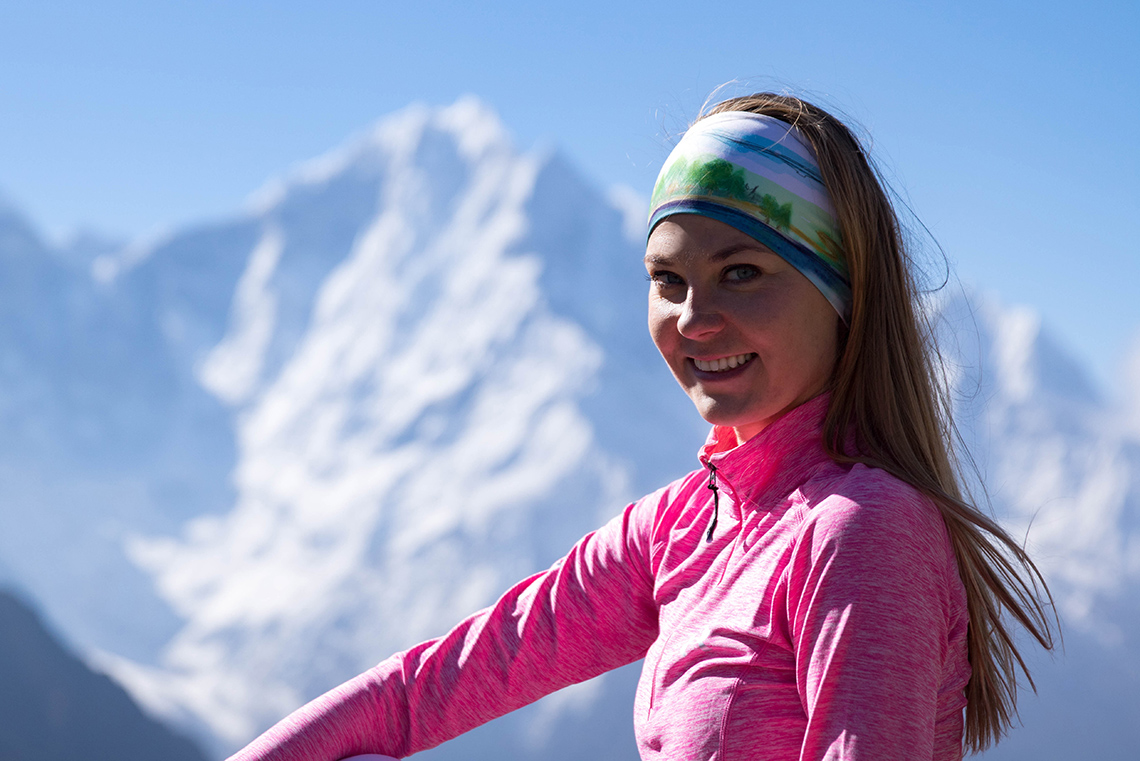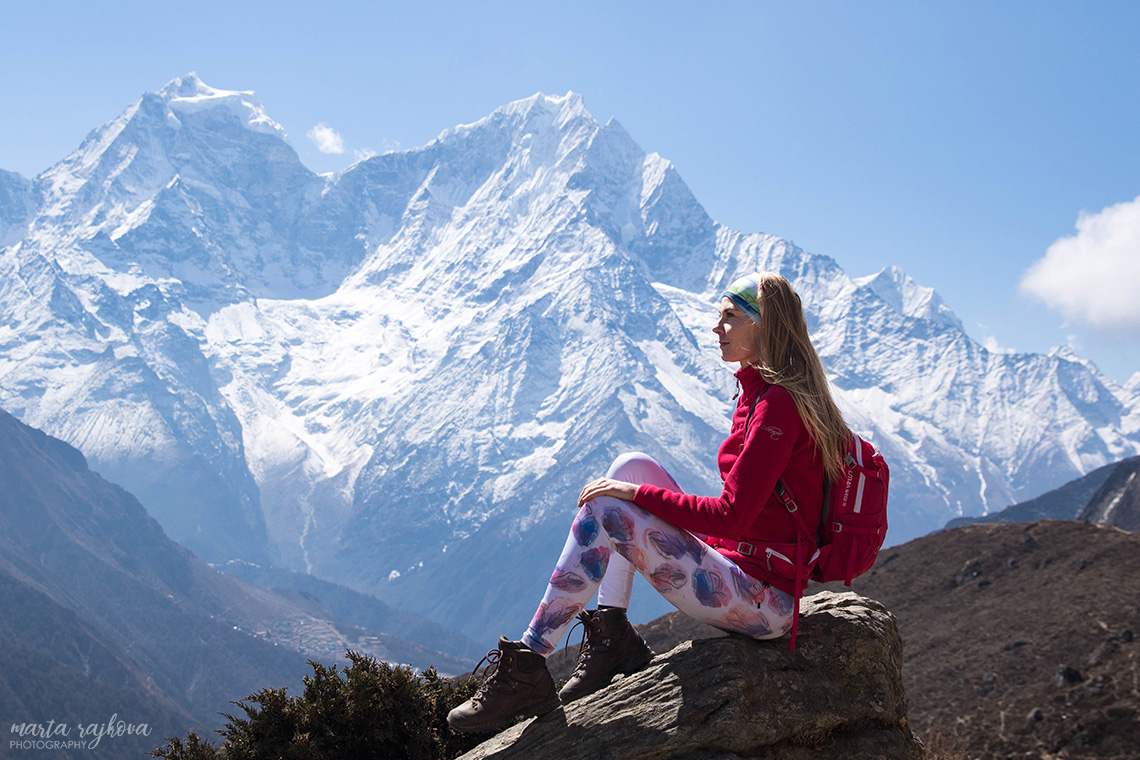 "You´re special. Upgrade to unforgettable." www.tiope.eu
Do you like comfy and practical clothing that is fashionable at the same time? I really enjoyed hiking in these leggings from Tiope. I got a ton of compliments on them from the very beginnging. Upgrade to unforgettable with Tiope!
Altitutude sickness
There is nothing dangerous during the Gokyo Lakes trek, no exposed terrain. The only thing that might cause you trouble is altitude sickness.
It is very individual. Some people do not have problems at all, others start to feel "sick" already in 3000 m. The best advice I can give you is to walk slow, above 4000 m very slow. Drink plenty of water and tea, eat well. (Locals believe that garlic soup is good to prevent altitude sickness).
In case you start experiencing some symptoms of altitude sickness (which can be very different for everybody) like dizziness, feeling like having a cold, headache, nausea, you can descend to a lower altitude and wait overnight. If it gets better, you can continue. This is another reason why you should have enough extra days.
There is also a medication called Diamox to prevent and reduce the symptoms of altitude sickness. I personally never tried it. Patience and slow pace have been my "recipe" so far.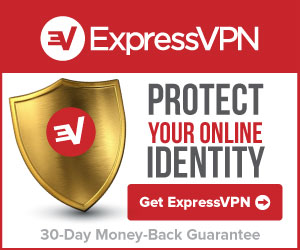 Have you seen my Video: Gokyo Lakes Trek with my 62-year-old mother? Click here.
3