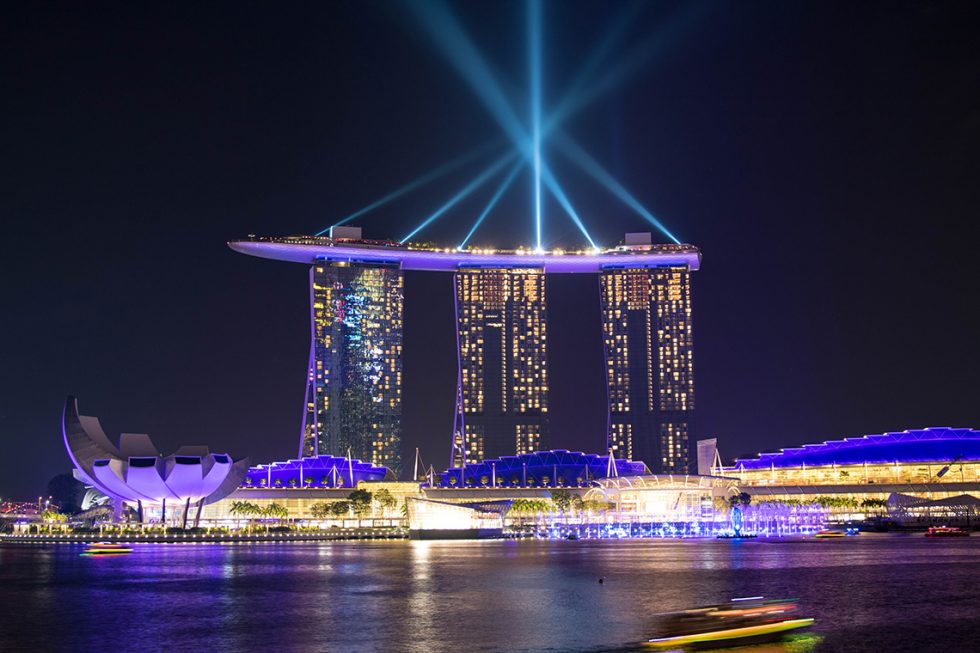 Have you been dreaming of staying in the luxurious Marina Bay Sands hotel? Or just looking for advice how to save money in this bloody expensive city? I´ll give you a few reasonable tips on affordable accommodation in Singapore as well as a few bizarre tips for adventurous speculators.
Singapore is one of the richest countries of the world. To be precise, according to its GDP per capita, Singapore is ranked 12th on the list of 25 richest countries (Source: World Bank, 2016). Though, prosperity almost inevitably goes with high prices.
Surprisingly, the richest countries of the world are small countries (small in terms of territory and especially population). Learn more about this topic in a YouTube video on the VisualPolitik channel.
Rich city – expensive living
Prior to my visit, many people had warned me that Singapore is extremely expensive. Well, I think for a short-term travel it is not so tragic at all. Prices are comparable to Western Europe or Australia, for example.
However, this city-state is very expensive for those who aim to live there. Rents are damn high, though, the price often corresponds with the uniqueness of the apartment. One of these special apartments are so called units. Imagine that you go up in an elevator and the door opens straight into your own apartment. What a science fiction, right?! Well, this is a unit, one of two large apartments on that particular floor. It means that the elevator opens on two sides into one of the two flats.
I am sure you are wondering how much a unit costs? "The rent is about 12 thousand Singapore dollars a month. I know it because my boss lives in one of those," says my friend Bob. It is about 7400 euros. An incredible amount of money.
Originally from Malaysia, Bob moved to Singapore because of work. He lives on the 21st floor of a house in Holland Village. Singapore´s territory is only 721.5 km2. High buildings save a lot of space for 5.6 million Singaporeans. Drying cloths or just chilling on your own terrace or balcony? That would be too luxurious. But lack of space results in creativity and I am astonished by the two meters long poles sticking out of the windows packed with cloths – Singaporean laundry drying racks.
Best areas to stay
Singapore is a very compact city and its excellent public transport system makes all the main tourist attractions easily accessible. So, if you only plan a few days visit, you do not have to worry too much about the exact area. However, the most popular areas for a short-term visit are China Town, Little India, Bugis & Kampong Glam, the area around Orchard Street, and if your budget allows, you may also consider more expensive areas such as Clarke Quay and Marina Bay. Therefore, more important than "where" is "for how much".
Cheap alternatives to hotels
The first, easiest, but most expensive form of accommodation in Singapore are hotels. Prices for simple 3* hotels start at 50 euros/night and you can book them simply through booking.com.
Be aware, that very cheap offers, like hostels for 9-10 euros/night, will be accordingly crappy. A friend of mine tried one of those hostels. How was it? Well, he stayed up all night sitting on his backpack in the middle of the bathroom with lights on, trying to stay away from a bunch of cockroaches.
If you would like to save some money for accommodation in Singapore, I would rather go for one of these alternatives: Airbnb, capsule hotels, couchsurfing and housesitting.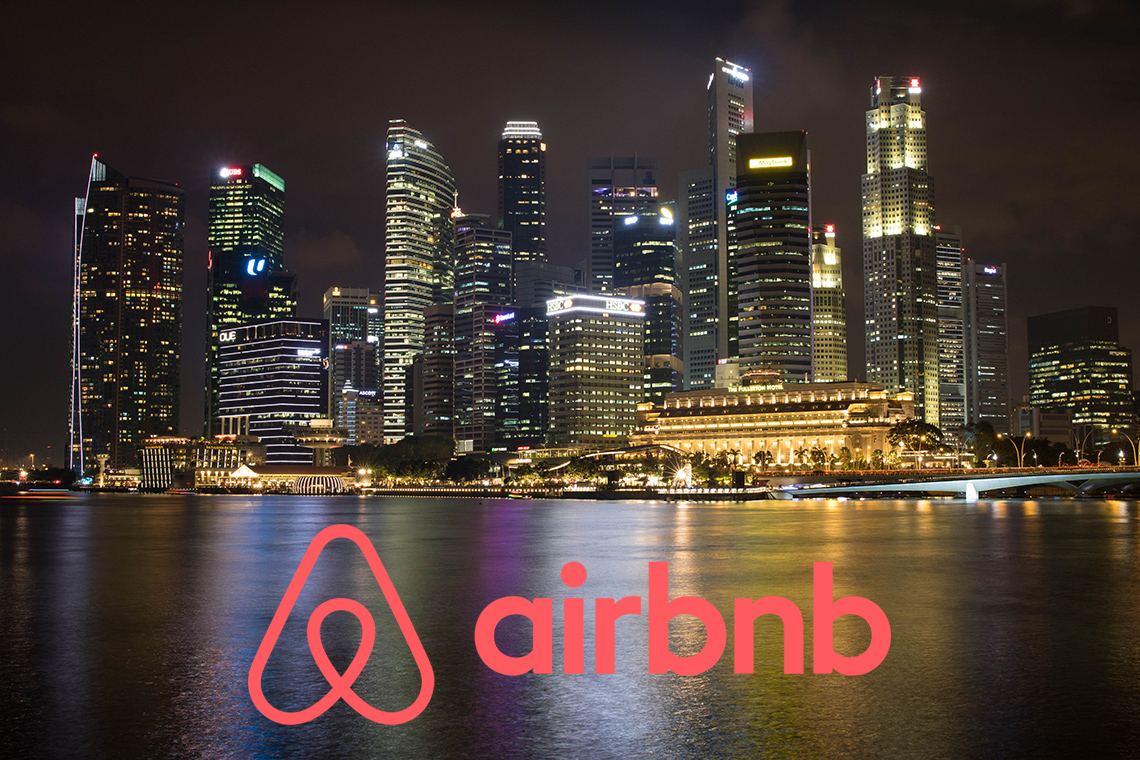 Airbnb
Airbnb is a great solution in expensive countries and cities like Singapore. I found many nice rooms for a reasonable price 25-30 euros/night. Eventually I booked a lovely boutique capsule hotel for 33 euros/night.
Learn more about Airbnb in my article All you need to know about Airbnb. If you do not have a profile yet, now I´ll give you 30 € off your first Airbnb reservation.
Capsule hotels
I fell in love with capsule hotels since I first tried one two years ago in Xian, China. Capsule hotels, also known as pod hotels, are typical in Japan, Singapore, Chinese metropolis´ and other highly-developed countries and cities suffering from lack of space.
Capsule hotels are a great option for solo travelers. In general, they are more expensive than regular hostels, but cheaper than hotels. Capsule hotels are typically very clean and provide you much more privacy than regular hostels. How come?
Well, you literally sleep in a capsule, a bed-box or a cozy well-equipped bunker that isolates you from the rest of the beds in the room. Some capsules have a pull-down curtain, others have roll-door.
Inside the capsule there is a lamp, outlets with USB charging ports, a mirror, a tiny shelf and blankets. Usually there are separate lockers for your luggage and shoes in the room. Depending on the hotel´s quality standard you might also get breakfast, a towel, slippers, a toothpaste and a toothbrush.
Often there is a purple or blue light in the capsule and/or the room, which always gives me an exciting science fiction feeling.
You have never stayed in a capsule hotel before? Watch this video and take a look inside of this futuristic home with me:
Since I really like boutique hotels (= small hotels in a feels like home-style), in Singapore I booked the Cube Boutique Capsule Hotel in Kampong Glam (they also have a branch in China Town). The hotel was clean with a good access to the main tourist attractions. It is located in Kampong Glam, also called the Muslim quarter, near Arab Street and the Sultan Masjid mosque. This is a charming area full of hip-looking cafes and bars, oriental restaurants, funky street art, carpet shops and fabrics. Good vibes and a lovely Middle Eastern atmosphere are even stronger in the evening during dinner time.
For this hotel I paid around 33 euros/night, but you can find cheaper and more expensive capsule hotels as well. On booking.com you will actually find a list of the 10 best capsule hotels in Singapore  rated 8.4 to 9.2 by previous guests. By the way, "my" Cube Boutique Capsule Hotel is among them.
Couchsurfing
The older I get the less I use couchsurfing. Still, in Singapore couchsurfing seemed to be a great idea. Why? Because even though I had a very short time for Singapore I wanted to get to know the city thoroughly. Staying with a local person for one day turn out to be a perfect solution. My host Bob took me for breakfast to the local food court and while stuffing myself with delicious noodles with tofu end eggs, coffee and fresh "white people´s durian" juice he told me a ton of interesting things about life in Singapore.
Just like Airbnb, couchsurfing is also the most useful in expensive cities and countries like Singapore. If you like getting to know locals and you have limited budget, couchsurfing might be an ideal option for you. You can set up a profile very quickly on couchsurfing.com.
Housesitting
If you are considering a longer stay in Singapore (a few weeks or months), try housesitting. It is a platform offering free accommodation at local people´s homes in exchange for pet and house care while the owner is away from home.
Ivana Grešlíková, a Slovak blogger and experienced housesitter, says it is very easy to find a housesit in Singapore. There is one little drawback, though. "Owners prefer sitters who are already in Singapore, so that they can meet and get to know each other in person. I would say, this kind of strategy is a Singaporean particularity. On the main housesitting pages like trustedhousesitters.com there are not many offers for Singapore. It is better to search for a host in one of the Facebook groups related to Singapore. Simply write a post with exact dates and wait for response. As to our story, we were quite lucky. A friend of mine gave us great references and the host chose us based on her personal recommendation. Eventually we took care of two parrots for tree weeks," explains Ivana Grešlíková. You can find more of her useful tips on her website.
Marina Bay Sands
Marina Bay Sands is an iconic 5* hotel in Singapore with the legendary Infinity Pool, the world´s largest rooftop pool. A true dream hotel, indeed. Luxurious, innovative, ecological with award-winning dining and a wide range of shopping and entertainment options.
High-priced dream
Before you start fantasizing I should tell you that the cheapest room costs about 250 euros/night or more. Could be carried out like a once-in-a-lifetime experience, don´t you think so? Hotel guests are free to enter the Observation deck on the 57th floor to enjoy a stunning view of the city. However, if you are not a hotel guest, you will have to buy a ticket for 23 SGD (children 17 SGD). Even if you are a ticket holder, access to the Infinity Pool is reserved to hotel guests only.
Tips for speculators
"Did you get to the Infinity Pool?" So many people have asked that question as if it was the ultimate challenge in Singapore. I did not! But many people get there secretly by applying all kind of bizarre methods. These are the most interesting (or ridiculous?) ones I have heard and read:
Get there with a friend who is a hotel guest.
(Would be super easy, but quite unlikely to have such a friend.)
Jump into the elevator with random hotel guests, go to the highest possible floor and use fire stairs to get the rest of the way up.
(Yep, someone´s true story…)
Make use of the inattention of the person guarding on the 57th floor or simply ignore the question whether you are a hotel guest.
(Some people really made it.)
Put on your bathing suit, get a towel and walk in nonchalantly with a confident smile on your face convincing everybody that you are a hotel guest.
(This one made my day. ????)
Apparently, there is a bar at the pool, so you can say that you only go to that bar. Perhaps you can add some "urgent" reason like you have an important meeting there or something like that. Stick to your story the best you can.
(Afterwards you can go to confession because of all these lies ????).
Some people have higher goals. The Infinity Pool is simply not enough for them. They would love to stay in the hotel but refuse to pay 250 euros per night. Here are some strategies of such sly venturers:
Share a room and split the costs with many people.
(Some said there were 10 of them in one room. Uff… No comment.)
If you are a solo traveler, wait at the reception for another solo traveler, a potential roommate, to turn up and tell him/her your plan to share a room and the costs.
(Who knows, eventually you might become friends.)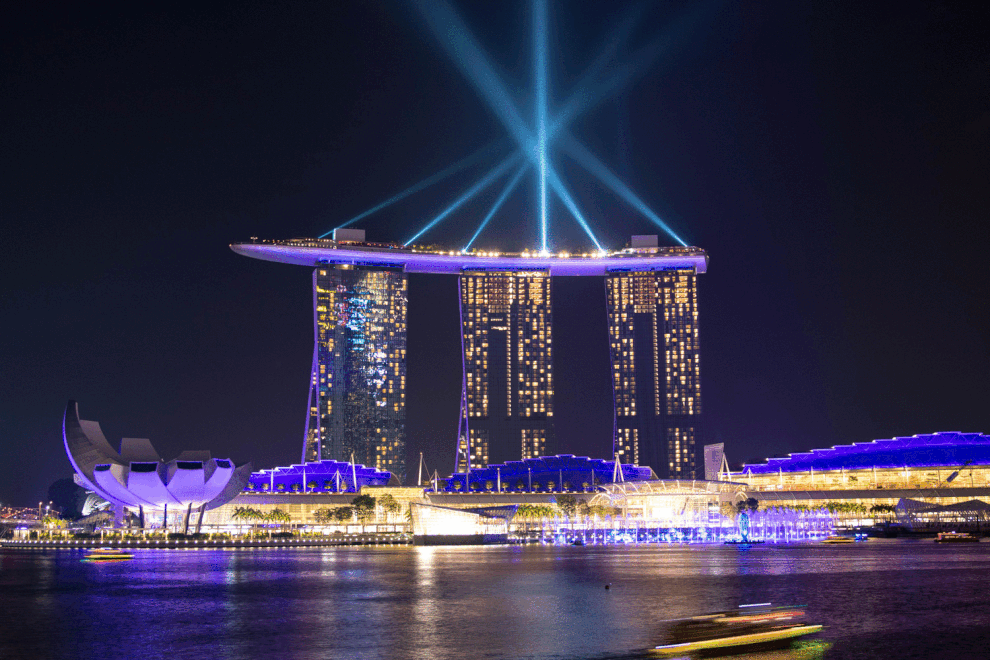 Light show
Obviously, the shopping center at the Marina Bay Sands complex is free to enter. The best cost-free attraction related to this hotel, however, is the daily light show. The show starts at 8 pm, 9.30 pm, on Fridays and Saturdays at 11 pm as well. I loved it so much that I went to watch it twice! The best place to watch is from Merlion opposite to Marina Bay Sands (mapa), from the Esplanade Bridge (mapa) or from a boat (but in that case forget about taking good photos with a DSLR camera and a tripod).
Is Singapore on your list after all? Would you even like to live there? I´ll give you one advice then. Once in Singapore, go to the Fountain of Wealth (mapa). Its design is based on the mandala symbolizing the universe, unity and harmony and it is most beautiful during the light show at night. Most importantly, locals – especially the Chinese – believe the fountain brings good luck and blessings. So, do not be shy to make a wish. Maybe you will be lucky and will never ever have to think about awkward à la Mr. Bean ways how to get to Marina Bay Sands. ????
| | |
| --- | --- |
| | Do you like useful and stylish travel gadgets? Download my FREE e-book and get inspired by a list of 22 cool travel accessories that will make your travels easier, pleasurable and more fun. |
2